Mid-Columbia Libraries offers cardholders free access to on-demand video streaming with the Kanopy streaming service. Customers can use up to twelve tickets to stream films and series each month. In Kanopy Kids, customers can enjoy unlimited videos per month; an internet connection is required. Sign up for an account here.
Kanopy showcases more than 30,000 of the world's best films including award-winning documentaries, rare and hard-to-find titles, film festival favorites, indie and classic films, and world cinema with collections from Criterion Collection, PBS, and thousands of independent filmmakers.
Checkouts are limited to 12 tickets per month with a loan period that varies per video.  No software is required. Videos can be played in a browser, or you can download Kanopy apps for iPhone, iPad, AppleTV, Android, AndroidTV, Chromecast, Amazon Fire, FireTV, and Roku.
Need help? Search Kanopy Help, or submit a request to Kanopy, or contact Kanopy at (415) 513-1026 (8 am-5 pm PT, Monday-Friday).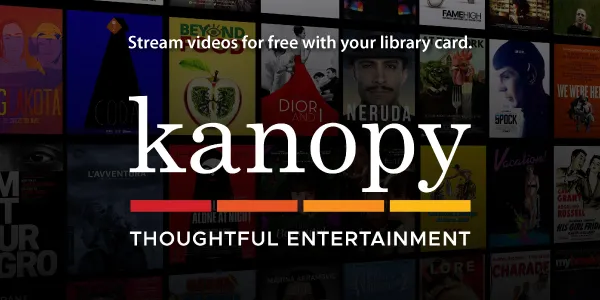 How do I set up a Kanopy account?
To create an account on Kanopy, visit midcolumbialibraries.kanopy.com and click "Add Library Card."
Enter your library card number and library PIN and click "Save."
Create your Kanopy account by entering your first and last name, email address, and a password.
You will see a "Welcome to Kanopy!" page with information about how your account works. Click "Watch Now" at the bottom of the page to begin watching.
A verification email will be sent to your email address. This email will come from kanopy@kanopy.com.

Note: If you are not seeing this email in your inbox or spam folder, please contact support@kanopy.com for help.

Click "Verify Email" to complete your account set up.
When you are signed in to your account, you can access your user dashboard from the top right. On the dashboard, you can manage your personal profile details, watchlist, recently watched films, comments, and more.
How many videos can I watch?
You can watch videos, films and series using tickets, and these checkouts are tracked on your Kanopy account. Once you press play on a video, you will automatically use the allotted tickets. Once you press play on a video, you can view it as many times as you like without using another play credit for the access period. 
Enjoy Kanopy's collection for kids with unlimited checkout of any video in Kanopy Kids.
When will my tickets reset?
Tickets reset on the first day of each calendar month. Unused tickets do not roll over into the next month.  
How can I keep track of my videos?
You can track your viewing activity by visiting "My Dashboard > Recently Viewed." The recently viewed page will list every video you have ever watched even after the viewing period has ended. If a video is still within the viewing period, the list will include the amount of time left on that viewing period.
Can I create my own lists?
You can save titles to watch at a later date by clicking on "+My List." You can access the "+MyList" option by either hovering over the title, or clicking on the title; either way will work. Titles are then added to your watchlist. You can see your saved titles by clicking on your username at the top of the page.
What devices can I use to watch videos?
You can watch videos on a computer or mobile device using a web browser. You can also download Kanopy apps for iPhone, iPad, AppleTV, Android, AndriodTV, Chromecast, Kindle Fire, FireTV, and Roku.
You will need an internet connection to watch videos on Kanopy. Films cannot be downloaded to a computer or device; they only stream through the internet.
Can visually impaired users access the films?
Yes, Kanopy's website and video player are both fully compatible with all screen readers on desktop browsers as well as with iOS and Android devices.
Need more help?
Search Kanopy Help, submit a request to Kanopy, or contact Kanopy at (415) 513-1026 (8 am-5 pm PT, Monday-Friday).