Address
405 S. Dayton St.
Kennewick, WA 99336
Mid-Columbia Libraries now makes it easier than ever for rural residents in Mesa, Paterson, and Plymouth to get library books and materials delivered to you! Call us or visit our catalog to request items, and select "Rural Services" as your pickup location. Items will be mailed or delivered in person to qualifying customers. 
Not sure what to read? Request a library grab bag.
If you need a library card or have questions, please contact us at (509) 737-6375, or via email at ruralservices@midcolumbialibraries.org. You can also submit an inquiry using our Ask the Library service.
Returns Boxes
New Mid-Columbia Libraries returns boxes have been installed in the city of Mesa in front of city hall at 103 Franklin St., at the fire station in Paterson, and at the fire station in Plymouth! Customers in town and surrounding areas can now drop off library books and materials here, and they'll be collected weekly.
Meet Our Staff
Meet Jessica! She's Mid-Columbia Libraries' Rural Services customer service specialist. Jessica describes herself as a big reader, always carrying a book with her wherever she goes. She checks out physical, eBook, and audiobooks like crazy, often gravitating towards quirky romantic comedies with bright, fun covers. "In a world of bookworms, be a book dragon," is the perfect way to describe how quickly she goes through books! Jessica looks forward to serving the rural communities of Benton and Franklin counties with in-person and mail delivery and is excited about the opportunities for growth that this new service will open for existing and future customers.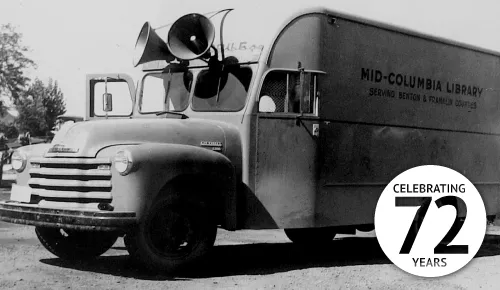 Bookmobile Retires
Mid-Columbia Libraries has continually provided rural services since 1949. As the first library serving our region and the first branch of Mid-Columbia Libraries, the Bookmobile served farming communities in rural, unincorporated parts of Benton and Franklin counties. After 72 years of service, the Bookmobile retired in early 2021. 
Today, we provide book and materials delivery service to Mesa, Plymouth, and Paterson, as well as other rural areas of the Mid-Columbia region with Mid-Columbia Libraries' Rural Services. 
Click here to see more historic Bookmobile images.