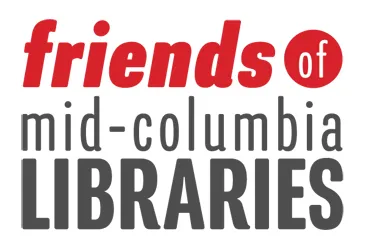 Friends of Mid-Columbia Libraries (FOL) maintains association of persons interested in providing aid and assistance to the library community. FOL has a common concern for the library's active expansion and participation in community life. We have a conviction that good library service is important to everyone.
Our activities may include: fundraising for equipment, materials, and other needs of the library which are beyond the means of the Board of Trustees; sponsoring culturally-enriching community programs such as talks, exhibits, films, and story hours; and gifts of books and desirable collections, etc. All activities are free and open to the public.
Currently, there are active Friends groups in Benton City, Connell, Kennewick/Pasco, Othello, Prosser, West Pasco, and West Richland.
For more information about the FOL, contact President Fernie Coe at 509-322-6949, or watch the FOL video on YouTube.
To connect with the Prosser Friends of the Library, contact the Prosser Branch. 
To connect with your local Friends group, contact your local library branch.
Or you can become a member today by printing and returning the downloadable form or complete the online form below.
Download our latest newsletter below. FOL is an exempt nonprofit organization as described in section 501(c)(3) of the Internal Revenue Code; EIN: 91-6050122.
We Sell Books!
Books, DVDs, CDs, audiobooks and more are available year-round at these branches:
Pasco 1320 W. Hopkins
Kennewick 1620 S. Union Street
West Pasco 7525 Wrigley Drive
West Richland 3803 W. Van Giesen
Keewaydin Park 405 S. Dayton Street
FOL also organizes the Giant Book Sale. Our 2023 Fall Sale is Sept. 21 to Sept. 25.
Become a Member Today
New Friends are always welcome! Friends are kept up-to-date with our newsletter, may serve as officers when openings occur, may volunteer at any time, and are allowed into a special members-only presale event at annual book sales. Membership is $5.00 per year and is due for renewal every January. Online registration includes a $1.00 convenience fee. Your receipt acts as proof of membership.
Meetings
Regular meetings of the Kennewick/Pasco/West Richland FOL group are held the first Monday of each month at 1 pm at the Kennewick library, 1620 S. Union St. For meeting times of other branch Friends groups, please contact the local library.